Southeast Annual Permaculture Gathering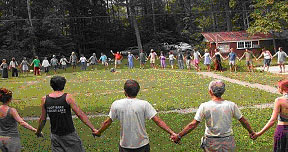 An annual reunion of friends-family, a time of retreat and rejuvenation; learning, fun, joy and magic.
The 13th. Annual Permaculture Summer Gathering was held this past August at Arthur Morgan School in the heart of the Celo Community Inc. CCI is a land trust with 1,100 acre of commonly owned and environmentally protected land in the Blue Ridge Mountains of western North Carolina. CCI is also the home of Rural Southern Voice for Peace which is one of the organizers of the event..
Permaculture is an ecological design approach to creating regenerative human habitats. The Gathering provides a place for permaculture practitioners, organic farmers, green builders, naturalists, healers, activists and others interested in creating and implementing sustainable alternative ways of living.
We come together to relax, rejuvenate, and share our knowledge and experience with each other for the common good. This year over 100 folks from eight, mostly southern states came together to delight in each other's presence and recharge our collective energy for another year of work for the earth and her inhabitants.
Affinity circles take place throughout the weekend to explore our shared interests in various topics. These circles cover a wide range of topics from wild plant and mushroom forays, wastewater treatment, food preservation, herbal mead making, permaculture design, networking for change, healing with plants, alternative economic systems, urban design and so forth. We share fresh food from our gardens and delight in spending quality time with old and new fellow co-conspirators working and playing for a better world.
Saturday night we create sacred space through a ceremony that calls forth the human story ----- including our individual and collective struggles, hopes and our visions for renewal.. A torch lit silent walk up into Silver Cove then brings us to a ritual return to earth, air, fire and water as we light a bonfire that becomes the center of song, dance, prayer and celebration.
The whole weekend is a celebration of our love for this earth and each other and a rededication to our individual and commonly held comittment to serving the life of this beautiful, though endangered garden world.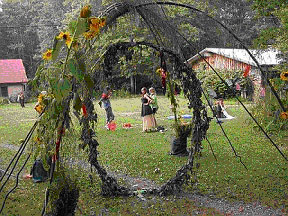 Entrance to the Gathering
This article was in the annual newsletter of Rural Southern Voice for Peace, which is one of the local sponsors of the annual gathering. Further info.: